Back to Locals
Hidden palaces & painted ceilings in Old Akko
Join a special tour with Dr. Shelly-Anne, a fascinating and intriguing encounter with the hidden palaces and painted ceilings in Old Akko.
About Shelley
Dr. Shelly-Ann Peleg is referred to by her family as 'Doctor Stones'. She says that when she was discharged from the army, her parents thought she was "crazy" when she decided to study archeology. Her insistence led her to complete her studies in archeology at the University of Haifa until her doctorate. Shelley has been involved in archeology and antiquities for over 30 years, preserving historic buildings and cultural heritage. Over the years, Shelly has learned to 'dub the stones', get to know the antiquities and 'hear' through them the stories of people who lived in the area in ancient times. She participated in countless archeological excavations across the country and witnessed fascinating discoveries that were uncovered during them.
She researches historic cities in Israel and especially in Akko, the people that lived there in the past, traditional communities that currently live in them today and how this all connects.
Dr. Shelly-Ann Peleg is the initiator of the Hands-on-Heritage project that takes place in Old Akko and the Western Galilee. An initiative that aims to create opportunities for tourists from Israel and around the world to experience and be exposed to the ancient buildings and their conservation, the historical figures and peoples who operated in the area, their traditions and cultures.
Atmosphere photo gallery ahead – Skip to next content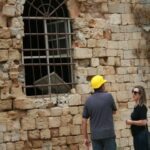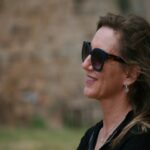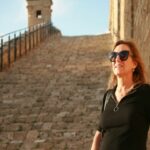 About the tour
Hidden palaces and painted ceilings in Old Akko
This is an architectural tour of special private homes in Old Akko. The tour includes historic buildings, religious buildings and special public institutions.
During the tour you'll discover with Shelly-Anne the hidden palaces and the picturesque ceilings of the buildings. You'll meet the people who currently live there, meet planners, architects and conservation workers.
This is an opportunity to catch up on new projects in the city and get to know the fascinating stories behind the doors.
Additional Tours