Back to Locals
The Muza Muza Tour
Experience 'Muza Muza' with Abdu, the Musical Folklore and Muse of Old Akko
About Abdu
Abdu is a licensed tour guide, tenth generation of the Salvador Matta family, a rooted Akko family that has lived in the city since 1460. The family lineage includes a Greek branch and a South American branch that influenced Abdu's cultural richness. He was born into an Orthodox Christian family, grew up in a Muslim quarter and describes himself as having a penchant for Judaism … In his youth he worked extensively in tour and nature classes for preschoolers in the Society for the Protection of Nature, informal education in Van Leer Institute, in the Scout movement and the Old Akko Community Center. For more than 8 years he served as a senior instructor at Beit Hagefen, the Arab-Jewish Center in Haifa. Abdu holds a bachelor's degree in conservation, and currently collaborates with schools in Akko on the subject "Know Your City and Contribute to It."
The personality of Abdu, a native of the alleys, is an ethnic, religious and multicultural mosaic. He is an actor and musician who plays on oud, guitar and Syrian bouzouki. His wide smile and his many stories make his guided tours a stage work that combines acting and music.
Atmosphere photo gallery ahead – Skip to next content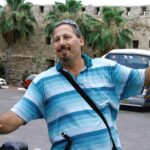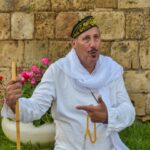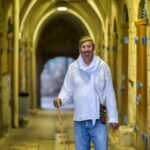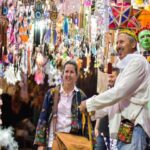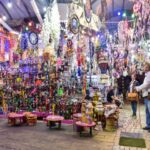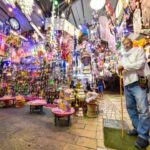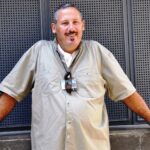 About the "Muza Muza" Tour
'Muza-Muza' is a tour with Abdu Salvador Matta, in the picturesque alleys of Old Akko, exposing participants to local music and its folk singing. As part of the tour, the participants 'learn' to sing in Arabic even if they do not know a word of the language.
The tour includes a visit to the city's unique historic sites including the 'Knights Halls' in the Hospitaller Citadel. This part of the tour includes a glimpse into the subject of conservation in the 5,000 year old city, one of the oldest cities in the world that has been preserved in its entirety.
The tour is spiced with local music, singing and aroma that emerges from the conversation with the locals, telling what they are currently cooking in their kitchen…
Additional Tours
Come and hear from Abdu unique folklore stories about Old Akko, discover all about key figures from the days of the Canaanite period to the present day.
'Diwan Abu Topan' is a tour in which Abdu as a storyteller, exposes participants to a world of folklore stories unique to Old Akko. Stories that are passed down from generation to generation and through the collective memory. Stories about figures, leaders, rabbis, travelers, city rulers in the past and throughout history beginning in the Canaanite period.