Back to Around Akko
Travel back in time to the Ottoman era and the Crusades
The building is an impressive Crusader fortress, named after Judin by the Arabs. It is situated only 10 km south of another well-known castle called Monfort. Judin was a fortified farm, which served as an agricultural settlement.
Yehi'am Fortress is an interesting example of how people of different eras used the same site for similar purposes. Here we have the remains of Crusader and Ottoman fortress, which were built on the ruins of Roman and Byzantine structures.
The fortress was significantly strengthened in 1208, when the Crusader king allotted the farm to members of the German Order of Teutonic Knights, but it was not enough to stem the rising Muslim tide.
In 1265, the Mamluk Sultan Baybars conquered the fortress and destroyed it. Although he left only a skeleton of broken-down walls, parts of towers and roofless rooms, the ruins attest to the strength of the original structure.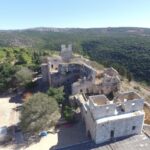 Yehi'am Fortress
About 500 years later the site became the stronghold of local ruler, Sheikh Mahd el- Hussein, who rebuilt parts of the fortress. In 1738 it was taken over by Daher al-Omar, a Bedouin sheikh who gained control over the Galilee. The main structures in the ruins date to this time.
About two years before the State of Israel was declared in November 1946, Kibbutz Yehi'am was established near Judin. It was named after Yehi'am Weitz, a fighter of the Palmach, who was killed in the action that blewup the Akhziv Bridge during the British Mandatory period.
Yehi'am National Park was declared in 1967 and covers an area of 50 dunams. The national park towers over Yehi'am Stream Nature Reserve, a deep ravine of well-developed Mediterranean woodland, dominated by Palestine oaks.
Points of interest in the park: Fortress from the Crusader and Ottoman periods, Fighting positions from the War of Independence, Film on the history of the fortress.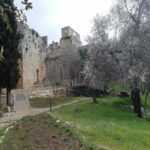 Yehi'am Fortress
Observation points in the park:
The Crusader tower – an excellent lookout point, looking east towards Yanuh, Kfar Vradim, and the hills of Western Galilee.
The western observation terrace – with a breathtaking view of the Western Galilee coastal plain, from the Ladder Ridge and Nahariya to Akko and the Carmel.