Back to Around Akko
Enjoy breathtaking views, exciting cable car rides & magnificent grottos
At Israel's northwestern tip, at the only point where the sea meets the cliffs, is where you will find the enchanting tourist site of Rosh Hanikra. The site is suitable for all ages and recommended all year round! We dusted the cliffs, colored the sea a stunning turquoise, and added new attractions that will make your visit even better.
The cable car
The cable car, which is the steepest in the world, takes visitors down for a fascinating encounter with the sea grottoes. The view from the cable car is breathtaking and that's just the start.
The grottoes – a spectacular natural phenomenon
The walking path in the heart of the cliff exposes visitors to the grottoes, which – more simply put – are sea caves. The grottoes were formed in the wake of underground shocks that ripped open gaps within the bedrock. Slowly, rainwater penetrated these rifts, forming tunnels and caves that continued to expand due to the waves that slammed against the rock.
Sound & Light Show
Visitors are treated to a simple, fascinating film describing the sea, the mountains and what they have to offer. The audiovisual display is suitable for all visitors.
Atmosphere photo gallery ahead – Skip to next content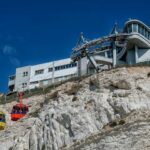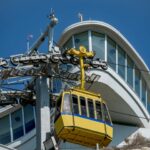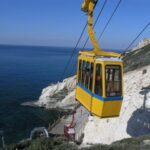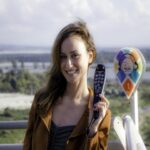 Small train
On Saturdays, the small train loved by children of all ages takes you on a beautiful ride along the sea promenade all the way to Achziv and back. A tour guide will enlighten you for the duration of the ride, which lasts about 40 minutes. The train does not operate in the winter.
Bicycle riding at Rosh Hanikra
Enjoy a family bicycle outing along the sea promenade boasting stunning inlets and breathtaking landscapes. A cycling tour offers you the perfect blend of nature, sports and enjoyment. (Attractively priced combination tickets are available at the ticket office)
Electric cars at Rosh Hanikra
For those of you who don't feel like burning calories on bikes, you have the option to take an easy, independent drive along the sea promenade in an electric car. On the way, you will enjoy a splendid sea landscape and catch glimpses of rock hyraxes who live in rock crevices.
It's a real blast – don't miss it!
Atmosphere photo gallery ahead – Skip to next content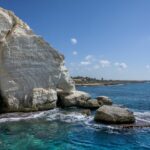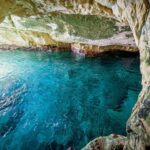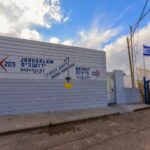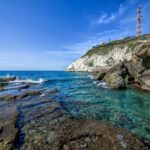 Innovations in the Caves: Audio Guide in 6 languages
Rosh Hanikra tourist site has renewed itself with a guiding device – Audio Guide – offered in 6 languages: Hebrew, English, Arabic, Russian, French and Spanish.
Visitors, tourists and locals who tour the site, go through 12 different audio stations and receive explanation on the history of the site, the special geology, flora and fauna in the area. The tutorial is fluid, interesting and greatly enriches the visit to the site.
More at the site: The "Diners Barosh" Restaurant
An Israeli chef restaurant overlooking a fabulous view of the sea swirling and crashing below, snack bars and a souvenir shop.