Back to Attractions
Walk in the footsteps of the Crusader Templars!
The Templars were one of the leading crusaders knights' orders. This secret underground tunnel connected the main palace of the Templars to the port of Akko. The tunnel is about 150 meters long and it runs beneath the houses of the city.
The Templars were a military-monastic order who – in the name of the pope – aided pilgrims coming from Europe to visit the holy sites of the Land of Israel.
They first settled in Jerusalem, on the Temple Mount, hence their name, "the Templars", the guardians of the Temple. Following the conquest of Jerusalem by Salah Al-Din in 1187, the Templars made their home in Akko and began to build their quarter in the City's southwest section.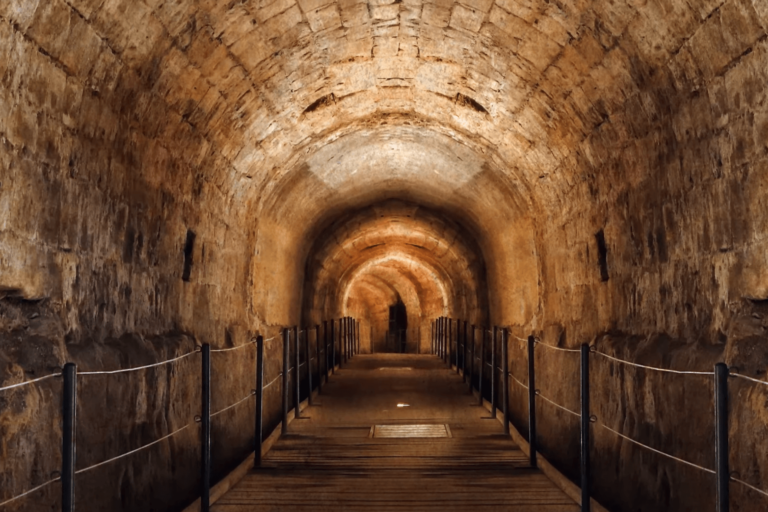 Here, at the western edge of the tunnel is where the main fortress of the Templar order was built. "The Templar Fortress was the strongest one in the city and, for the most part, it abutted the sea line. As a strong fortress, its entrance was protected by two powerful towers with 28-foot thick walls. Two smaller towers were built on either side of the towers and each tower was topped by a gilded lion" (as described by a Templar who lived in Akko during the siege of 1291).
The tunnel is 150 meters long and it extends from the Templars fortress in the west to the city's port in the east. It crosses the Pisan quarter and, in the past, served as a strategic underground passageway that connected the palace to the port. The lower part of the tunnel is carved in the natural stone and its upper part is made of hewn stones covered with a semi-barreled dome. The tunnel was discovered in 1994. The Akko Development Company, in collaboration with the Antiquities Authority, cleared away the dirt and made the tunnel available to visitors. The tunnel's western section was opened to the public at large in August 1999. From 1999 to 2007, the Akko Development Company continued to expose and rehabilitate the eastern section of the tunnel and in 2007, the entire length of the tunnel was made available to the public .
Atmosphere photo gallery ahead – Skip to next content